A comparison
Todoist vs Amazing Marvin
Amazing Marvin is a customizable and feature-rich Todoist alternative.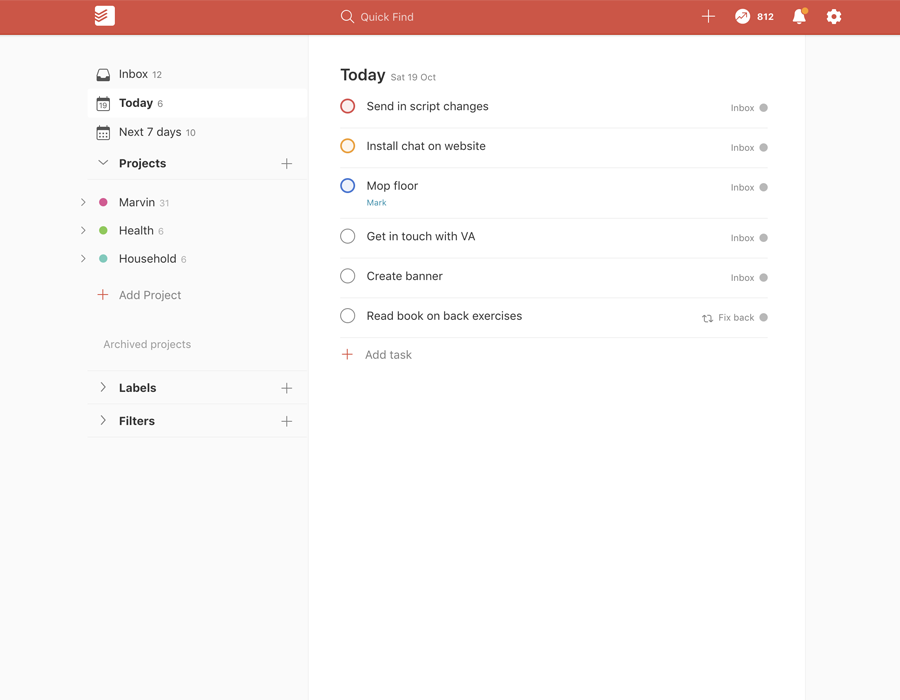 />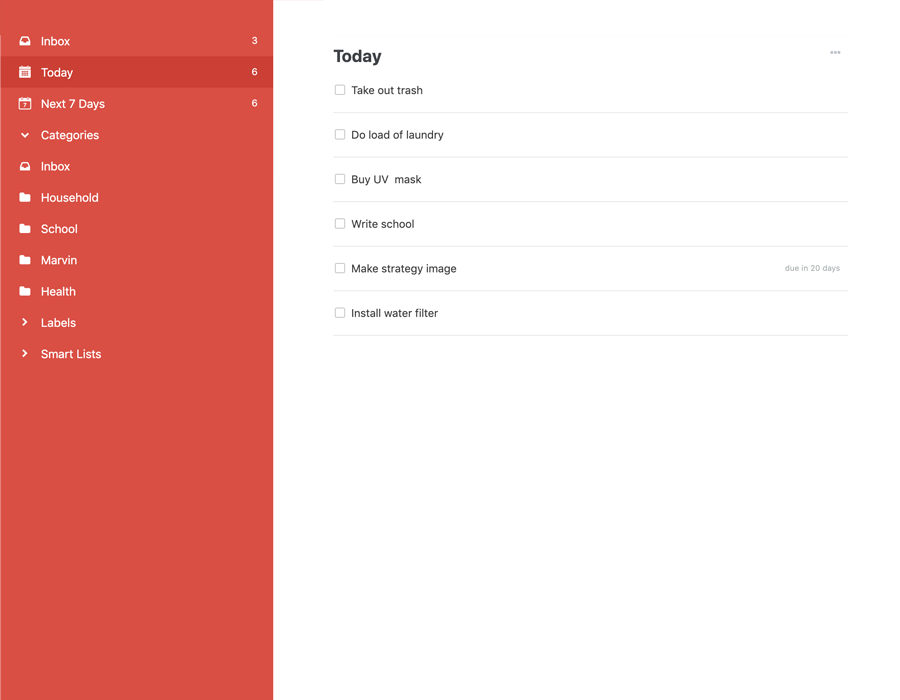 Todoist has nowhere near the amount of flexibility and friendliness of a UX as Marvin does.
I find Marvin to beat out Todoist in almost every way.
After seeing Marvin, with its huge amount of strategies, my longtime favourite Todoist seems boring to me, so it's hard to change back again.
Amazing Marvin has all the tools I'd been using together in one place. It's like if Todoist never stopped growing.
Amazing marvin is... well, amazing. Probably one of the best project management / to-do list apps I've ever tried (I'm a big Todoist user).
I discovered Amazing Marvin 6 months ago and it is MUCH better than any other app I used in the past (Todoist, TickTick, etc).
Read more reviews
Basic Feature Comparison
Here is a direct comparison of some popular features. For a more in depth comparison check out our to-do app comprison chart further down.
| | |
| --- | --- |
| Do vs. due date | Do vs. due date |
| Start/defer date | Start/defer date |
| Calendar View | Calendar View |
| 2-way Calendar Sync | 2-way Calendar Sync |
| Habits | Habits |
| Goals | Goals |
| Dependencies | Dependencies |
| Time blocking | Time blocking |
| Agenda view | Agenda view |
| Reviews | Reviews |
| Time Tracking | Time Tracking |
| Grouping | Grouping |
| Filtering | Filtering |
| Check off sound | Check off sound |
| Snooze & Backburner | Snooze & Backburner |
| Timers | Timers |
| Duration estimates | Duration estimates |
| Location Reminders | Location Reminders |
| List Sharing | List Sharing |
| File attachment (coming soon) | File attachment |
Amazing Marvin Advantages
Date options
Marvin has do dates (scheduling), due dates (deadlines), start/defer (hide until) and end dates (artificial deadline). Todoist only has one date option.
Calendar
Marvin combines calendar and to-do list features. There is a full calendar view and flexible one or two-way sync. Todoist does not have a calendar view and the sync is not that flexible.
Habits
Want to use habit tracking and to-do lists in one app? Marvin has you covered.
Goals
Set up high level goals to track and connect any relevant action items to the goal to see how much you are working on goals.
Focus Mode
Only see one task at a time and work through your list without overwhelm.
Board view
Instead of the regular vertical view you can also display your grouped lists in a horizonal board layout.
Procrastination support
Marvin integrates smart features designed to help with procrastination and overwhelm (e.g. Procrastination Wizard, Procrastination Count, Suggest Task feature etc.)
More detailed stats
Stats can be helpful to see how you are doing and make adjustments.
Active development
We have one of the fastest development track-records in the productivity space. We work closely with the feedback we receive from our users to always improve Marvin.
Flexible Smart Lists
Smart Lists are crucial to setting up a good workflow. While Todoist also has Smart Lists (called filters) Marvin has many more options for queries so you get exactly the items you want.
Time blocking
Mapping out on a calendar view when to do what is a popular productivity strategy that Marvin fully supports.
Check off sounds & animation
Optionally, you can enable motivating check off sounds and animations. How about a dancing Marvin or fireworks whenever you check off a task?
Better organization
Marvin lets you organize your tasks in infinitely nestable categories and projects. Todoist only has nestable lists and does not distinguish between projects or categories.
Project Management
Amazing Marvin has real projects that you can check off and track.
Easy workflow experimentation
Location reminders is a feature some people don't want to miss, while others never use it. Todoist has them, Marvin doesn't yet.
Gamification
There are many options to gamify your productivity. All optional of course.
Time tracking
Track the time you spend on your tasks. See helpful stats or use the data for billing purposes.
Duration Estimates
Estimate how long it will take you to complete a task or project and see helpful totals in your lists.
Timers
There is built-in timer functionality in Marvin such as the sandclock and a pomodoro timer.
List Grouping
You can easily group any list into different sections, either manually, based on label groups or with helpful presets.
Snooze & Backburner
Both of these features help to "hide" any items that are not relevant in the near future. This helps to keep things clean and not overwhelming.
Progress bars
Progress bars help with staying motivated and understanding how you are doing. We love completion bars and have many options for them.
Theme options
Liking the way your to-do list looks is important. There are many options for customizing the look of Marvin that go beyond color schemes.
Todoist Advantages
List sharing
You can share lists with others in Todoist, while Marvin is strictly a personal productivity tool at the moment. We will add list sharing in 2021.
Watch App
There is a smart watch app available for Todoist. For Marvin you will get push notifications for reminders on your watch, but there is no dedicated watch app yet.
File Attachment
With Todoist you can directly attach files to a task. With Marvin you have to add a link to a file instead. This is one area where we still got work to do. :)
Location Reminders
Location reminders is a feature some people don't want to miss, while others never use it. Todoist has them, Marvin doesn't.
IFTTT Integration
Todoist has an integration with the IFTTT service. Marvin has Zapier integration and an API to set up automations however.
Price
Todoist low tier costs $36/year and there is also a limited free plan. Marvin only has one plan right now that costs $96/year and $48/year for students. We are also thinking about introducing a basic plan for much less however and are generous with financial aid.
iPad app
Marvin does not have a dedicated iPad app at the moment. You can either use the mobile app or the web app with a permanent icon on your iPad.
Ready to try Amazing Marvin?
Try all features without any commitment for 30 days. No credit card required.