The best personal productivity app
Get more done with more ease
Marvin incorporates principles from behavioral psychology to help you beat procrastination, feel in control and finish your to-do list.
Start Your Trial
Watch demo video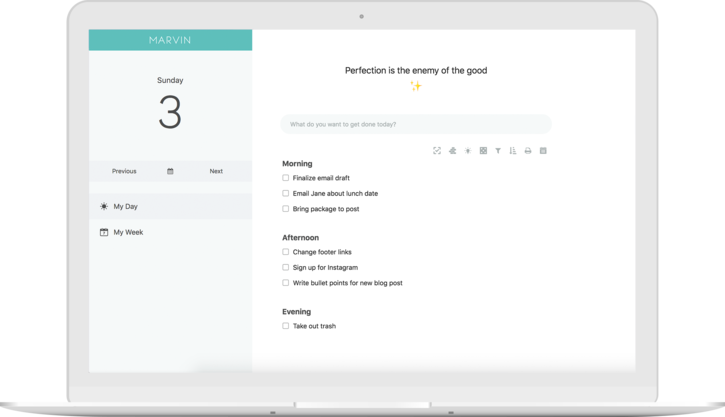 Hands down, this is the greatest productivity app I've ever used.
I came to terms that my fantasy productivity app did not exist and then BAM! Amazing Marvin to the rescue!
Holy sh*t Amazing Marvin is the planning app I have been looking for for YEARS!
I am a student with ADHD and this is the first app that I can actually stick to using!
As a chronic procrastinator Marvin has been a true life saver! Thank you!
I used Marvin for the first time today and it felt like my productivity doubled!
Read more reviews
Your quest for the perfect productivity app ends here
Marvin is the most feature rich and customizable personal to-do app on the market today. And we always go the extra mile to help you feel more organized and productive.
Why Marvin is amazing
MARVIN FAQ
A couple things you might be curious about
What can Marvin help me with?
Is Marvin a todo list app?
How is Marvin different than other productivity apps?
Who is a good fit for Marvin?
On what platforms can I use Marvin?
Are there any collaboration/sharing features?
Marvin is a personal productivity tool that helps you feel more organized, be in control of your life and get things done.
Marvin is specifically designed to
Minimize stress & overwhelm
Increase productivity
Marvin is an amazing task manager/to-do list app, but Marvin is also a day planner, time tracker, project management tool, timer, calendar, habit and goal tracke and more.
The idea is to combine multiple productivity tools into one app so that everything is easier to manage.
Phew, where to begin? :)
Instead of forcing you to work one way, Marvin allows you to build your own workflow. Our customization and feature options are unmatched.
We have a ton of features you won't find anywhere else all designed to help you overcome a productivity challenge.
But Marvin also works right out of the box with a default workflow that is great for anyone who is new to producitivty tools.
Marvin is a great fit for anyone with lots of things to do and who works mostly from a computer (our mobile apps are not amazing yet).
Marvin is also amazing for anyone struggling with executive dysfunction (e.g. ADHD, procrastinators).
Many of our users are entrepreneurs, freelancers, students, writers, programmers, designers, marketers, event planners, teachers, knowledge workers among others.
Not yet.
Right now, Marvin is 100% about personal productivity, helping you manage your own workload and time.
But collaboration is coming in 2020.
Explore what Marvin has to offer
Ready to try Marvin?
Try Marvin without any commitment for 30 days. No credit card required.